Week 4, Can You Believe It?
Wow, we are beginning week four already. So far everything is going smoothly. I did make a few changes to what we will be doing. I don't plan on omitting anything, but more like postponing it.
One thing that will be postponed is the Simply Charlotte Mason (SCM) history. I have the kids reading about US history during reading time right now, and I didn't want to mix the different time eras. So, we will pick up SCM after they finish; maybe around November.
I have MaryEllen reading Charles Coffin's, The Story of Liberty
. She will then continue with Sweet Land of Liberty.
Donnie is reading Mara L. Pratt's, The Foundations of the Republic and I might have him continue with The American Citizen.
These were not on their original book lists, but after going through our shelves, I decided to add them.
In January, I will be adding Notgrass' Exploring World History to MaryEllen's schedule. She wants to begin earning high school credit so that she can graduate early and pursue her other interests, mainly her drawing.
So, I think Donnie and I will go ahead with SCM History while MaryEllen branches off.
MaryEllen is finishing up her first Module in General Science. She will take her first test on Thursday or Friday.
I prepared a schedule for her, similar to the one I made for Donnie, so she knows what to do each day.
She writes out her On Your Own questions and makes flash cards for the vocabulary.
I typed up the Study Guide for her so it was more like the test she will be taking, plus I enjoy doing it; weird I know.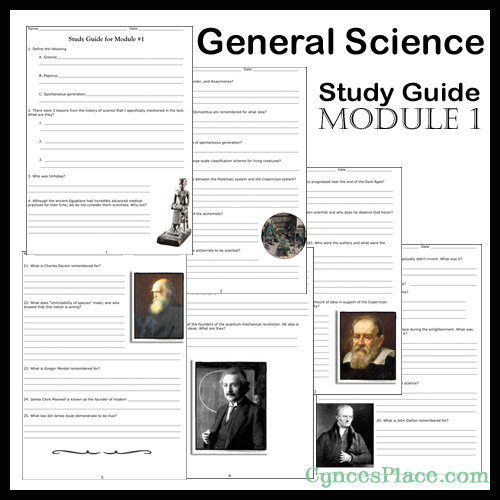 The Module Summaries are optional and can be used if the student needs more help before taking the test, but I decided to have her do them anyway. I was going to have her copy these and supply the answers as she goes as recommended in the book, but I copied one as a trial and it took me over an hour to get through them. I understand the importance of writing it out so that it sticks, but it will take too long. I decided to just have her fill in the blank, but really read it as she goes. It might be a good idea to have her read it aloud to herself too.
We started typing a little late, last week to be exact. But, they are enjoying TypingWeb and are just about finished with the home row keys.
Math and writing are moving right along.
During read aloud time, we have enjoyed Star of Light and The Sugar Creek Gang. I enjoy reading The Sugar Creek Gang, the boys are fun and I enjoy their adventures. Of course I like how the Lord and living for Him is intertwined throughout the book.
All in all, I am pleased with what the children have gotten done.
So, have you started studies yet?
Blessings,