This was originally an Easter Lapbook I had on Albright News, but I made some changes.
Sadly, my kids aren't much for lapbooks, so I decided to make it more workbookish for them. The discussion questions are now to be answered in writing and I added copywork.
But, it all can still be done discussion style too with your kids filling out the lapbook components. When it is all done, they will have a way to retell the story visually as a lapbook.
You can tape or glue the lapbook components onto the file folder or cardstock as you go, or save them in a zippy bag or folder until the last week and then assemble your lapbook.
Each part includes:
The story of the Resurrection told by Aunt Charlotte
Questions after each selection
Copywork of verses (can also be used for memory verses)
Lapbook
Part 1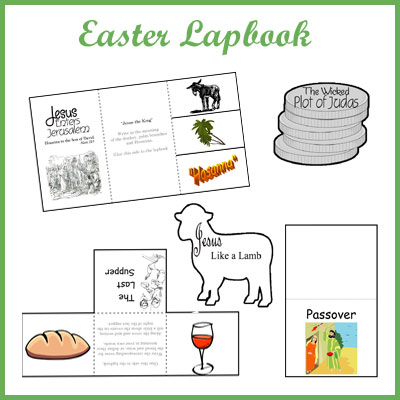 Part 1 Includes:
The Passover
The Passover and Easter Day
Jesus the King
Cleansing the Temple and the Last Supper
Download Easter Lapbook Part 1
Part 2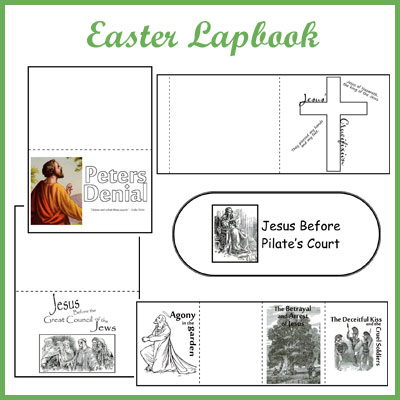 Part 2 Includes:
The Betrayal and Arrest of Jesus
The trial of Jesus by the Jews
Jesus Before Pilate's Court
The Crucifixion of Jesus
Download Easter Lapbook Part 2
Part 3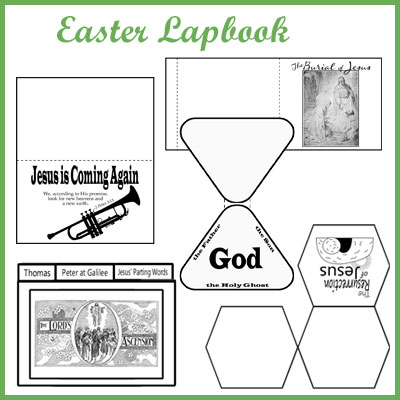 Part 3 Includes:
The Burial of Jesus
The Resurrection of Jesus
Jesus Ascends to Heaven
The Comforter Sent to Take Jesus' Place
Jesus is Coming Again!
The Crucifixion of Jesus
Download Easter Lapbook Part 3
Useful Links
Units and Lapbooks
The Easter Story – based on the book, "The Easter Story"
written and Illustrated by Brian Wildsmith
Jesus is Alive!
Legend of the Easter Egg Lapbook
The Parable of the Lily Lapbook
Resurrection Lapbook – Preschool/Primary
The Resurrection of Jesus – Preschool
Activities for Holy Week
Resurrection Eggs 12-Piece Easter Egg Set with Religious Figurines Inside

12 Colorful Resurrection Eggs for Easter Morning Hiding
Each Plastic Egg Has A Religious Figurine Inside Symbolizing Parts Of Jesus' Journey
Carton Also Includes Booklet In English And Spanish Featuring Stories That Explain Each Figurine
The Perfect Easter Gift For Kids Of All Ages
Taken Together, These Eggs Tell The Full Story of Easter
Crafts
Rolled Palm Branch
Make Your Own Resurrection Eggs
Marble Cross, Flower Crown and Easter Flower
He is Risen – An Empty Egg and Butterfly Prayer
Easter Crafts – including, eggs, bunnies and the resurrection
Lots of crafts – including bunnies, eggs and easter baskets
Baking
Resurrection Rolls
Easter Story Cookies
More Recipes
Easter Bunny cake
Miscellaneous Links
There is a slew of links and printables here.
Notebooking Pages, links, and coloring sheets
Blessings,