We have used Saxon Math for 2-1/2 years now. The kids began with Saxon 54 and now are in Saxon 76. For the 2011-2012 school year, I made up a log to record their test and timed test scores.
We are still using the one for the tests, but haven't used the timed test sheet in a while. Actually, I don't have the kids do the timed tests.
Saxon Math Test Score Sheet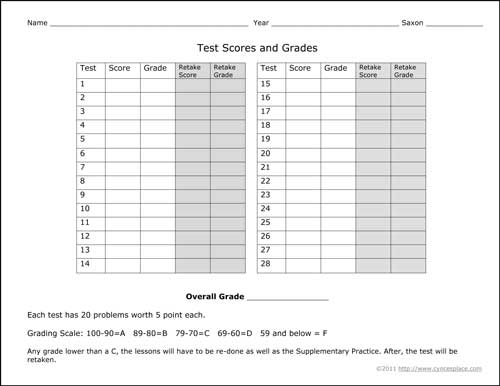 We use the 2nd editions, and so far, as my memory serves me, with Saxon 54 & 65, there are 28 tests. The kids are currently in Saxon 76, which has 28 tests. I believe the third editions of Saxon 54, 65, 76, & 87 have 23 tests. If you are using a newer version, you can cross through the last 5 rows.
As far as the Grading Scale goes, you can use it or chuck it. In Art Reed's book, Using John Saxon's Math Book, he put a lot of emphasis on their test scores. This is the reason if they miss more than 6 or more, they will have to re-do the lessons and the Supplementary Practice. You can just have them re-do the lessons. So far, we haven't had to do either.
Download Saxon Math Test Score Sheet
Saxon Math Timed Test Score Sheet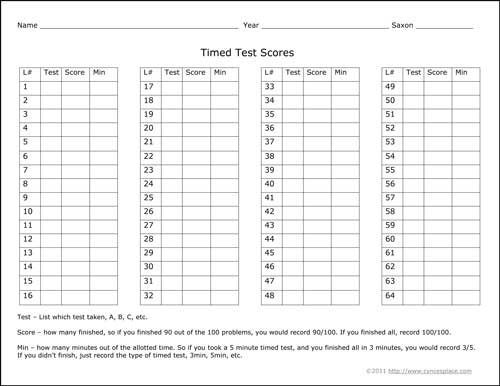 Again, this is made for the 2nd editions of Saxon Math 54-87. If you use the later editions, you can just cross through the unneeded rows. There are 3 pages up to Lesson 138.
Download Saxon Math Timed Test Score Sheet
Saxon Algebra 1/2 Test Score Sheet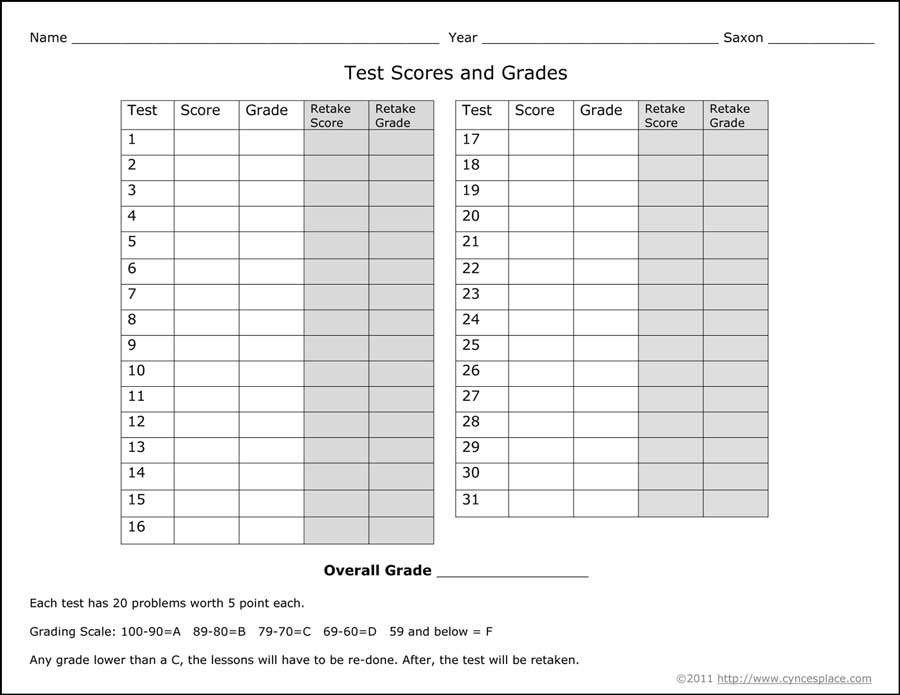 We are using the 3rd edition of Saxon Algebra 1/2.
Download Saxon Algebra 1/2 Test Score Sheet
Enjoy,