One Year Bible Reading Plan
In the file below is a reading plan to get you through your bible in one year. Most agree that between 15-20 minutes a day is all you need.
After reading my bible through a few times and after using the One Year Bible and other reading schedules, I found making my own works best. I loved the One Year Bible as it is what got me reading the bible every day. But I found out that I do not like to read a little of the Old Testament and a little of the New Testament a day along with pieces of Psalms and Proverbs.
The schedule I put together for myself and the one below, goes through each book one at a time.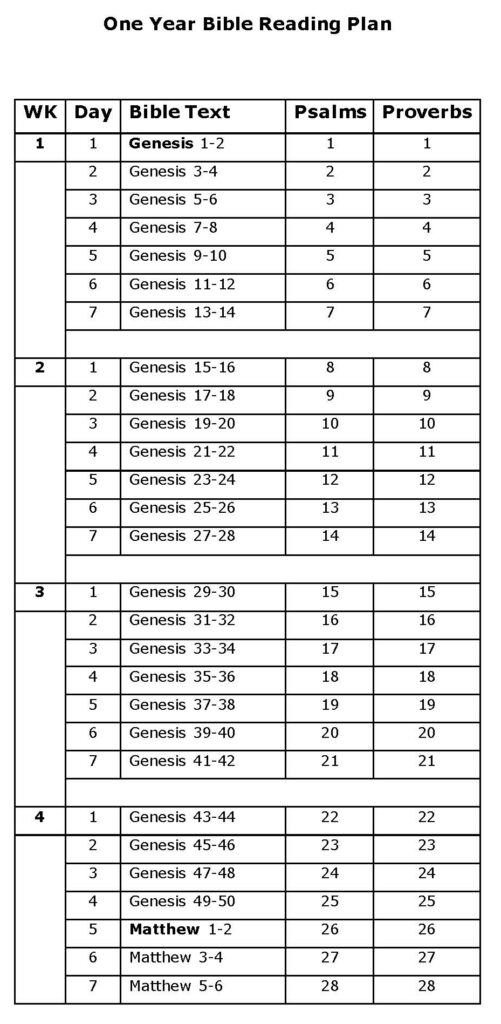 I choose to start my bible reading time with a Psalm each day. The Psalms are so beautiful, and they are perfect to begin each day with. You will get through the Psalms in five months. Feel free to start over for the second half of the year.
For the first month, I also read a Proverb a day. I like it this way instead of breaking the chapters up into pieces or reading multiple chapters a day. The Proverbs are so full of wisdom, that you cannot read more than one a day without getting information overload; at least that is how it is for me. I find it easiest to read one chapter a day.
I also alternate Old Testament and New Testament. So, I begin with Genesis and after reading the whole book, I proceed with Matthew. After Matthew, I read Exodus and then Mark, and so on.
The schedule is not dated either with months. I scheduled it out by day that way you can start any day of the year. As a homeschooling mom, I like to keep my weeks at-a-glance, so each separation is seven days. You can easily count how many weeks you have left or how many you have read.
I hope you find this schedule helpful. If not, there are plenty out there on the internet or pick up one of those handy One Year Bibles.
Download One Year Bible Reading Plan
"O how love I thy law! it is my meditation all the day." — Psalm 119:97 kjv
Blessings,
Cynthia