Tisquantum, who was called Squanto by the English, lived about 400 years ago. He was a friend of the Pilgrims who came to America in the 1600's.
His life was one of hard work, hard times, and loss as well as joyous times, learning and love.
We, as did the Pilgrims, like to see him as an instrument used by God for the good of our country to be. Without him, we cannot say if the Pilgrims would have lasted another year on this continent.
Because of his willingness to teach them what he knew about his homeland and by befriending the Pilgrims, they survived another year.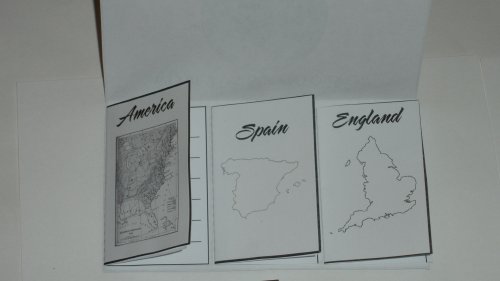 Squanto Lapbook - Cover
Squanto Lapbook - Countries
Squanto Lapbook - Mini Bio
Squanto Lapbook - Protect
Squanto Lapbook - Smallpox
Squanto Lapbook - Teaching
Squanto Lapbook - Thankful
Squanto Lapbook - Tribes
Squanto Lapbook - Verses
Squanto Lapbook - Verse Primary
Squanto Lapbook - Word Study


Small Pox Matchbook – Describe briefly what smallpox is and how it  impacted Squanto.

Small pox is a disease that caused high fever and bumps to appear on  the body. It is contagious. Because of no vaccines in Sauqnto's day, it
often caused death. Small pox impacted Squanto because it is thought to be the cause of his tribe being wiped out.
Teaching the Pilgrims – He taught them how to plant corn, find eels in the river and where the best places to find lobsters were. 
Word Study (Vocabulary) – Write a description of each word as you read about Squanto.

Tisquantum – Squanto's real name. The English called him Squanto.
Patuxet – Squantos original tribe.
Wampanoag — The tribe that invited Squanto to live with them when he returned home only to find his tribe was wiped out by small pox.
Small pox – A disease that causes fever and a rash of bumps on the body. It is contagious and life threatening.
Monk – Men who dedicate their lives to the works of Jesus Christ.
Usually they live together in monasteries, but some live alone while
others roam without any fixed residence.
Sachem – Word the Massachusetts tribes called their chiefs.
Pilgrims – A group of Puritans who left England in order to freely
worship the one and only true God.
Plymouth – The name the Pilgrims gave to the area where they landed in America. They named it after their home town in England. 
Copywork Verse – Genesis 45:7 "And God sent me before you to
preserve you a posterity in the earth, and to save your lives by a great
deliverance."
Thanksgiving -The Pilgrims got together during the harvest time to give thanks to God for his blessings throughout the year. They invited Squanto's Indian family. They cooked up an abundance of food from their crops and from various animals.

What are you thankful for this past year? 
Squanto's Travels – Describe a little about each place when Squanto was there.

America – His home. His home was located where nowadays Plymouth, Massachusetts is.

England – His first time there was voluntary. He felt he could learn a lot about the English and report back to his tribe. His second time there, after he was taken to Spain, he was waiting for a ship to take him back to America. 

Spain – His trip to Spain was against his will. He was a prisoner soon to be sold as a slave. He thankfully was bought by some friendly Monks who gave him his freedom, sheltered him, taught him of Jesus and eventually sent him to England where he was most likely to find a ship heading to America. 
Tribal Families
Patuxet – This was the tribe to which he belonged. Squanto was a Patuxet Indian. Their home was were nowady Plymouth, Massachusetts is. While Squanto was in England and Spain, his family was killed by small pox. Squanto was the last of the Patuxets.
Wampanoag – The Wampanoag tribe lived close to the Patuxets. So when Squanto had no home, they welcomed him in. The Wampanoag Chief made a peace treaty with the English that was in place until his death. 

God Protects Squanto – Tell how God delivered Squanto from a life destined to be a slave. 
Squanto Mini Biography
Name: Tisquantum
Nickname: Squanto – given by the English
Birthplace : America
Indian Tribe: Patuxet
Born: Around 1585
Died: 1622
Greatest Accomplishments: Learning English and Spanish. Teaching the Pilgrims to survive off of the land in their new home. Translating
between the Indians and the Pilgrims which opened communication lines of peace and trade.
| | | |
| --- | --- | --- |
| Squanto Literature Study | First Thanksgiving Story | Links |
Enjoy,