Excited About Our Next Audio Book
The Knights of Arethtrae


by Chuck Black
We finished up The Kingdom Series a few weeks back. It was VERY enjoyable. I hope they make it into a movie. That would be awesome.
Our next series, The Knights of Arethtrae, just arrived!!
We are all excited to get started this Friday when we travel to visit Grandma. 🙂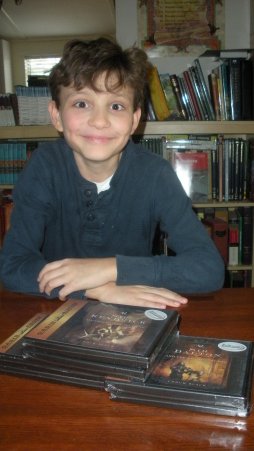 We couldn't get the box open fast enough! lol! When it arrived, all stopped…even studies…as we opened and looked at the covers. 🙂 Too much fun!
I had Donnie pose with the CD's to show how we all feel now that we can continue on with the characters.
Even Don is enjoying these. He really liked picking out the parallels to the Bible. The kids too. I have found myself using the characters as examples when I am trying to explain something to the kids about character or when those teachable moments happen to come up. I can't think of any examples right now, but when the opportunity arises, it is great to have this extra tool in my proverbial belt. 🙂
Another thing we really liked was the dramatization. The voice actors did a superb job in telling the story. That is a plus for us.
Happy Listening,