Circulatory System Notebooking Pages
Are y'all ready for a new set of anatomy notebooking pages? Let's go for the heart! Here is a set of Circulatory/Cardiovascular Notebooking Pages.
I also added the red blood cell advertisement and graham cracker heart pages.
Here are some questions to think about as you do your study on the cardiovascular system.
What is the purpose of circulation
Describe the red blood corpuscles.
What is the use of the white blood corpuscles?
What is the duty of the heart?
What are the arteries? Veins?
Do any of the arteries carry impure blood?
How can we tell when an artery is cut? What should be done in such a case? Why is such a cut more serious than a cut vein?
How does nature stop bleeding from wounds?
If the blood would not clot, what would happen when a person is cut?
What is the pulse? Why does a physician count a patient's pulse?
What are the capillaries?
What is fainting? What is the remedy for it?
How is the flow of blood regulate?
How is the amount of blood that each organ receives regulated?
Why do we feel warm after running?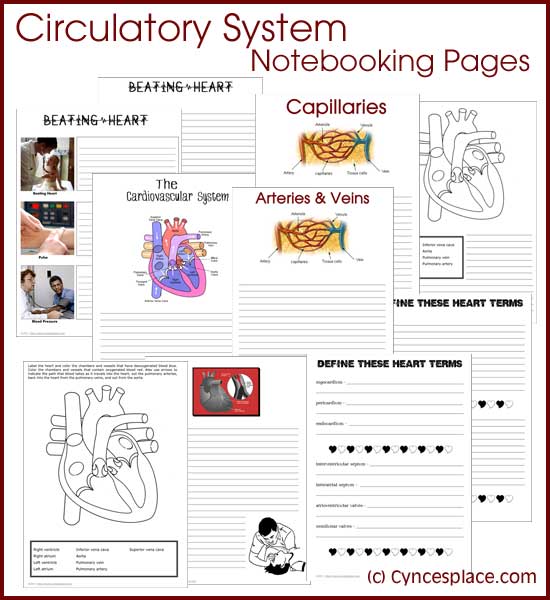 Download Circulatory/Cardiovascular System Notebooking Pages
Download Red Blood Cell Advertisement
Download Graham Cracker Heart Notebooking Page
Cardiovascular System Resources
Text on the Circulatory System – There are more under 'Blood and Circulation' on this page.
Lesson on the Circulatory System.
Pictures, Quizzes and Videos on the Circulatory System
Lots on the Circulatory System – Flash, pdf worksheets and more. Click on the grade level on the left. Great for those who are doing this study with younger kids.
Heart and Circulatory System Activities – Lots of hands on. Great for younger crowd.
Cardiovascular System Videos
How The Circulatory System Works
How The Heart Works
Cardiovascular System Experiments
Lots to choose from on this website.
Enjoy,