Respiratory System Notebooking Pages
It has been a while since I added some anatomy notebooking pages. So, today I have a set of Respiratory Notebooking Pages.
Here are some questions to think about as you do your study on the respiratory system.
1. What are the organs of respiration?
2. Describe the larynx, trachea, and bronchi.
3. Give the location, size, shape, and structure of the lungs.
4. What are air sacs?
5. Describe the covering and lining of the lungs.
6. What is the diaphragm? What has it to do with the circulation?
I added a notebooking pages on smoking for those who are using the Apologia Elementary Anatomy Text, and for those who would like to add it to their studies.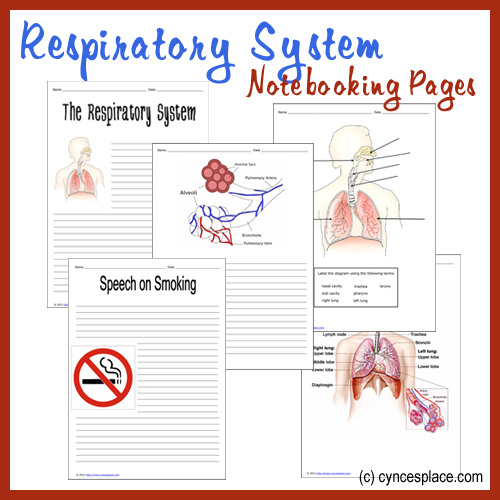 Download Respiratory System Notebooking Pages
---
General Anatomy Links
Respiratory System Resources
Pictures, Quizzes and Videos on the Respiratory System
Information on the Effects of Smoking
Respiratory System Experiments
Lung in a Bottle Experiment
Here it is a video version.
Respiratory System Videos
3D Respiratory Medical Animation – 1.44 minutes


3D View of Diaphragm – 1.14 minutes

Enjoy,