Yummy Chocolate Nut Ice Cream
The other day I made this scrumptious 'chocolate nut' ice cream. I am trying to cut as much dairy out of my diet as possible, but oh how I enjoy ice cream.
The reason for cutting out dairy is to see if it helps with my allergies. My nose seems to always be stuffed or running. I still have phlegm in my throat. But, I have noticed an improvement since I have reduced my dairy intake. 🙂
The only dairy I usually eat now is butter and cheese. I need to look for a few substitutes for those. Also, sour cream. I don't eat sour cream much, mostly in burritos or tacos, so that isn't too much of a problem. I don't know if I will ever be dairy free.
Anyway, back to the yummy ice cream.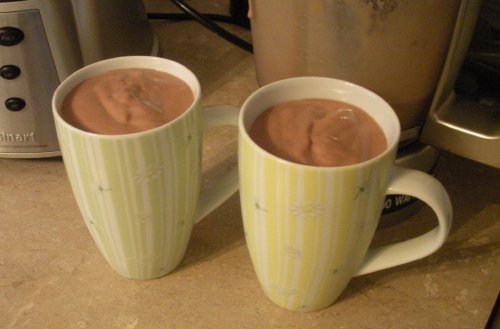 Here is what I added to the blender. When I made this previously, I used less peanut butter, but I could hardly taste it, so I added more this time. Last time I also used chocolate rice milk, but this time I decided to use cocoa powder. Cocoa powder I have on hand more often.
Ingredients:
1 1/2 cups water 2 Tbs. cocoa powder
1 Tbs. stevia blend
6 bananas frozen
3 Tbs. peanut butter, almond butter or any nut butter you enjoy.
Directions:
Add all ingredients to your blender and blend until smooth.
I guess the texture is more like a shake, but I like ice cream better. 🙂
Enjoy,