Today, MaryEllen found Sunbeam in the street, apparently hit by a car. Luckily she was not bloody or messy.
Don was heading out to the car, ready to go to work and we were saying our good-bye's. Usually Sunbeam will come out to greet us, but not today.
MaryEllen called for her, but she didn't come. As she was heading back to the driveway area, she noticed Sunbeam in the street. Oh my, it was horrible. Don got out of the car and wrapped her in a towel. She was so stiff because of the freezing temperatures.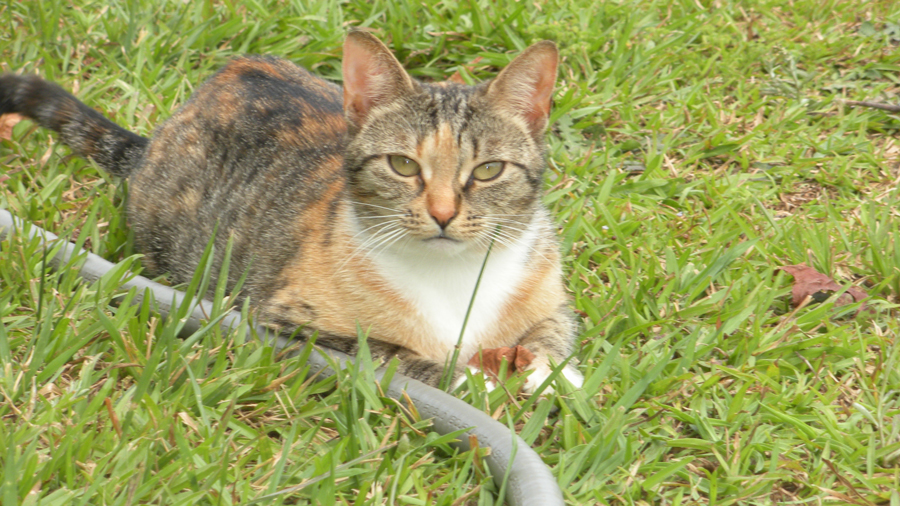 He didn't have time to dig a hole, so after he left the kids and I began to dig her grave. It took us a little over an hour to get it deep enough and big enough to fit her. We said our good-bye's before replacing the dirt. It was a very emotional time.
She will be missed. As you can imagine, there were many tears today. Sunbeam was the kids' first pet. They went through the loss of Phil, their aunt's dog whom they adored, but this was different, most likely because she was their own and they cared for all her needs.
Don and I plan on letting the kids pick out another cat from the humane society.
Sunbeam was a feral cat, but she became very trusting with us. She would come in and out as she wished. If she wanted in or out, she would meow. For a while, she would sleep with the kids, but she later preferred the back of the sofa. She kept me company when I was sick and had to sleep on the sofa for a few nights. 🙂
She was a joy to watch and she would bring smiles to the kids' face. She brightened up our day. When we would come home from visiting grandma, she was there to greet us.
We had her for about two years. We never thought she would get run over. Especially because our street doesn't get much traffic and when she would hear a car, she would run toward the house for safety.
MaryEllen's birthday is tomorrow, but I don't think she will be much for celebrating. The anniversary of their first kitty's death will always be remembered because it is a day before her birthday. It is going to be a long day Wednesday anyway with other things…another story. We will most likely celebrate her birthday next Monday on Don's next day off.

Update: Don came home last night and told me she wasn't hit by a car, but someone shot her. The wound to the head was perfect round the size of a 22 he said. He is the only one who saw that side of her face because he lied her in the towels with that side facing down and we placed her in the ground wrapped up.
I am so upset, who would kill our pet! For some reason it was easier to take when I thought she was hit by a car.