Our vacation went well. We are now getting back into the swing of things. 🙂
We arrived home on Monday, just before midnight and Tuesday, we slept in, I started laundry, called the doctor (allergies acting up) and then we went to town for groceries and a few other things.
Today, Wednesday, I finished up laundry, the kids began their chore routine, but we did not do any studies. Later, I got a schedule ready for them for the last 3 days of this week. It will be a VERY light week. Tomorrow the kids will begin their study routine once again. 🙂
I am a little tired…recouping from a cold. The kids and I got sick the last few days of our vacation. It started out with a sore throat and progressed into congestion and coughing. The kids are doing better, but it is taking me a little longer to spring back. Must be my age! LOL!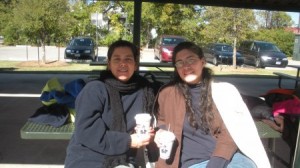 I tried not to let it ruin my vacation while visiting with family. I did take a nap one day and retire early for the night another day (or was it the same day? hmm). My sister and I enjoyed a few trips to her local coffee shop. It was a cute place with lots of things to look at. We spent the day out and visited Hobby Lobby, Big Lots and a Christian book store/teaching store. I really like the book store. They had all kinds of curriculum that you could look at. It was great, because I don't have anything like that where I live. They had Story of the World, Mystery of History, Apologia…items that I thought were only available through the internet!
Hobby Lobby was great, and to find out that we have one in an adjacent town. I didn't even know it was there!!! Don says it has been there for a year, but I never noticed it! Then again, it is by the Walmart, kind of hidden, and we don't usually go on that side of town unless it is for a doctor's appointment.
The kids had a great time with their cousins whom they have not seen in 3 years. It was great to see them jump right in as if time had stood still. Funny though, I hardly saw them the whole time! Between their six cousins, they were always occupied.
It was a much needed vacation for all of us. The drive was fun, especially when we knew we were getting closer and closer to our destination. We got there on October 31st, and my sister and her family were just leaving to the church for some festivities, so we joined them. Even after the long drive, we were able to enjoy a few hours at the festival. It was great!
Don and my brother-in-law went out after he got off of work, about three evenings during our time there, this was sweet on his part, because they stayed out shortly past midnight and he had to be up early for work the next day. During this time, my sister and I would make a cup of coffee and we organized her filing system she set up for her homeschool. She has six kids, and I was VERY overwhelmed with all she does…makes my day seem so easy. But, she is good at what she does and I KNOW I couldn't do it…another reason I look up to her.
On the way home, God was looking out for us. Our car stalled on the interstate in an optimal spot. We weren't out nowheresville, but close to a gas station and a hotel. I know the Lord intervened because… first, we got to bed late the night before and hit the road at 4am. We had about 4 hours sleep. Second, Don got tired driving about 3 hours into our trip, so I took over. He wanted to sleep a few hours, but after an hour my eyes were getting tired. I wanted him to have another hour, so I told myself I would drive one more hour. A few times, I caught myself wanting to doze, you know how you kind of space out, but your eyes are still open. That's when the car, which was in cruise control, began to jerk. I shut off cruise control and stepped on the accelerator, but it did nothing. I woke up Don as I began to move over to the side of the road. We stopped next to the last on-ramp before a stretch of road.
We ended up having our car towed, but it being Sunday, it couldn't be worked on until the next day. So, we checked into a hotel about noonish on Sunday. We all had a good nights sleep and felt refreshed in the morning. I was still feeling under the weather on Sunday, so the sleeping did me good. I hate to think what might have happened if I had continued to drive.
Well, I better end my novel here. I am hoping to update Cynce's Place and my Journal this coming week.
Here are a few pictures..
Blessings,