This week, Don put up the tether ball he had bought a couple weeks back. We had fun with it…let me see, MaryEllen got hit in the nose and I got shore forearms. She is okay and took it like a champ. It took me a while to get the hang of tether ball again, it being many moons since I've played. I left with sore arms and hands, no bruises, thank goodness. I bruise easy, and remember the nasty bruises from playing volley ball in high school. I have to remember to fist my hands though, I think it will help. 🙂 Slapping is painful!
Donnie and Don fared well with no injuries. 😉 The tether ball was a great addition to our outside activities.
I will admit that I was a little afraid of the ball hitting one of the kids' heads…especially how hard Don gets the ball going. But I think when the kids play together, it will be much safer. 🙂

Don was trying to show them how to serve and get the ball over their heads. A neat trick that even I didn't know.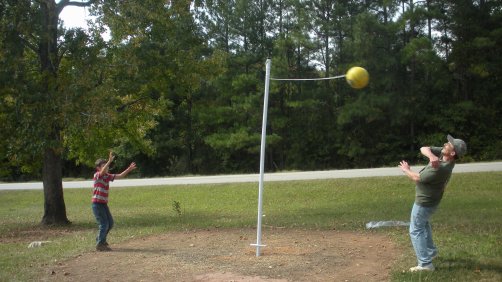 The kid doesn't have a chance. LOL! Look how high that ball is!!
Happy playing,