Nancy Drew: Phantom of Venice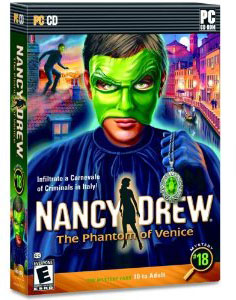 For over six years now, I have been a Nancy Drew computer game fan. I began playing them with my niece when she would visit me in the summer for a few weeks every year. We would do about 2 during her stay and would stay up late doing them. 🙂  Ah, memories.
Now, I do them with the kids. It has been a few years since I last did one, we stopped on #17, so this one, The Phantom of Venice, was to be the next.
We usually wait until they become a double pack, but for some reason, 18 and 19 were never bundled. So after a few years of waiting, Don decided to ebay them. LOL!
So, for Christmas, he got me a few Nancy Drew mystery games.
The only drawback, and it wouldn't be a drawback if I were more disciplined, is that it is hard to call it quits after an hour…so I end up playing for a few hours at a time.
That is one reason I didn't mind the two year wait. I consider computer games a waste of time, I could be creating copywork or something else. 🙂 But then it isn't something I do all the time.
So I told the kids that we will do one a month or only if they work hard in their studies.
We finished this one in about 3 days, but I will confess that a few days we spent 4, FOUR, hours sleuthing! I do all the sleuthing, and the kids watch. They will give me input as what they think I should do next or go next. They help with puzzles and so forth, but it is mainly me navigating around. I usually read all the books and newspaper clippings, but this time, because of my sore throat, we all read them to ourselves. I can't talk much or I begin to cough. Ack!
Well, enough rambling for this Wednesday morning. I need to get breakfast and get dressed.
Blessings,