It seems I am always redecorating my blog or changing the layout. I have done it again. It has been over a year…so pretty good.
My daughter was so kind as to draw me some bunnies for my blog design. I am a sucker for cute bunny rabbits. I especially like the flop eared rabbits.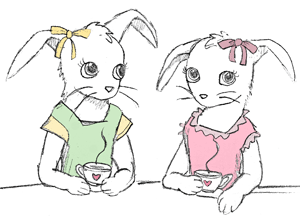 The bears are nice too, but I always wished they were bunnies. The coffee theme is so comforting and inviting and I do enjoy a nice cup of coffee often, especially on these cold winter days.
When my daughter showed me the bunnies, I thought they were just so cute. I love them!!
I scanned them into the computer and colored them with Photoshop Elements. Nothing professional, but I love them all the same.
The new blog colors? Another favorite of mine, mint chocolate chip! Mmm, yum! I think the minty green and brown go nicely together.
So, I am enjoying the new look of my blog.