More Gardening – Repotting
Last week we began re-potting some of our plants. We also started another batch.
MaryEllen helped me while Donnie and Dad worked on another project.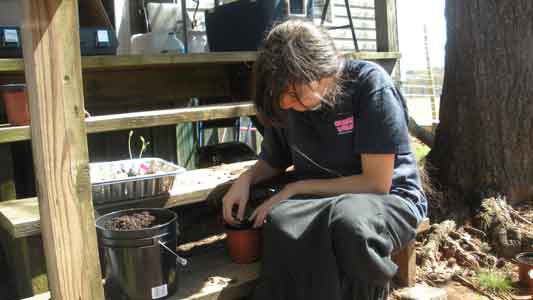 Don and Donnie built a stand so we could hang some tomatoes and strawberries. Big Lots had their hanging kits on sale, so we bought a few, plus we had a few from last year that we never used.
Here is Donnie pounding down old rusty nails from some wood out back. They will use this to make the hanging area.
After measuring, Don showed Donnie how to use the electric saw. He cut the wood to the right lengths.
The placed the posts in the ground and then one on top across.
Here is the finished product with the tomatoes and strawberries hanging. We still need to add the rest to the middle.
We love watching the plants grow up. Every year we are captivated once again as the sprouts emerge from their seeds and then seem to grow over night. It is fun to watch them lean toward the light when we have them indoors. We turn the tray, and then slowly they turn again. LOL! It is just too much fun.
Happy Gardening,