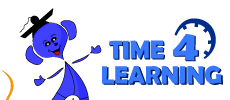 Time4Learning is an online curriculum for grades preschool to eighth grade. It includes the 3R's as well as history, social studies, art and a playground.
It can be used alone or as a supplement to your current program. It can also be used as a summer school program if you want to do something different for those months.
Each child is given their own log-in and all their records are stored there. The parent can view each child's progress using their own parent log in. There is no need to log into the child's space to view their progress, very handy.
After the child logs in, they can then choose which subject to work on or you can assign them their work.
The program keeps a log of what the child has completed, and what they are currently working on.
When you enroll, you choose lower level(pre-k-3rd) or upper level(4th-8th). But from what I saw in the trial, it is easy to move between grades within levels if you find the one you chose was too hard.
To keep things interesting and the child engaged, the material is presented in a game like manner. This may or may not appeal to some children or parents.
Unfortunately, it did not appeal to my 6th grade daughter. She just wanted to move on. It moved too slow and had too much 'fluff'. She isn't a computer game person by nature, so this might be why it didn't appeal to her.
My 5th grade son, who enjoys computer games, thought it all right, but the characters didn't appeal to him. He is more of a super hero guy.
This video, not mine, gives you a little idea of  the 'game feel.'
Over all, I thought the concept was great and the content was sound. Children will definately learn using the program.
When it comes to language arts and reading comprehension, I would rather have the kids read out of a book than off of the screen. This is my own personal preference and it in no way takes away from the program itself.
Like I noted above, this would work great as a supplement or summer school program.
If you would like to write a Time4Learning review and get a free month in exchange, you can contact them at their website, http://www.time4learning.com
I was offered a free month in exchange for an honest review of their program.
Blessings,