We are just about done with Christy. We have enjoyed it immensely. It is sad to see it end. We get so involved with the characters, they become friends. It is always hard to say good-bye to friends. I know they will be listened to again and again just like the kids listen to Jonathan Park over and over. 🙂
But, we are very excited about our next series we are going to begin while driving back from Texas. We will begin The Kingdom Series by Chuck Black. I have only seen good reviews, plus it promises adventure...one thing we all enjoy.
Here is a snippet from Chrstianbooks.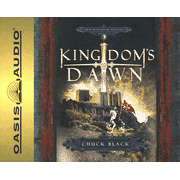 Kingdom's Dawn, The Kingdom Series #1 - Audiobook on CD
By Chuck Black / Oasis Audio Llc
Sixteen-year-old Leinad thought he was a common farmer's son, nothing more. He wondered why his father had trained him for years to master the sword--not exactly a tool of the trade for farmers--but one tragic event initiates a world of revelation.
Only then does he understand his true calling--a calling no other man in the entire kingdom of Arrethtrae can fulfill--a calling given him by the King Himself.
Teamed with a young slave girl, Leinad is thrust into adversity and danger--for the Dank Knight and his vicious Shadow Warriors will stop a nothing to thwart the Kings plan to restore the kingdom.Leinad will need more than a sharp blade and a swift hand to fulfill his mission and survive the evil plots of the King's sworn enemies.
Journey to Arrethtrae, where the King and His Son implement a bold plan to save their kingdom; where courage, faith and loyalty stand tall in the face of opposition; where good will not bow to evil--and the future of a kingdom lies in the hands of a young man.
Unabridged. 3 CDs. Read by Andy Turvey & Dawn Marshall.
I know this will entertain us on our drive, which is about 13-15 hours one way.
Have a great day,