Schoolhouse Teachers Review
Who: The Old Schoolhouse (TOS)
What: Their new membership site full of lessons for all ages and lots of freebies.
Where: http://www.schoolhouseteachers.com
How Much: $12.95 a month
Specials: For a limited time your first month is $3 or purchase an entire year at 10% off ($139)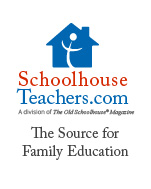 The Old Schoolhouse has a new membership site that you will not want to miss out on. If you receive or have ever received their magazine or any of their products such as The Curiosity Files, then you know that they produce top notch stuff. This membership site is no exception.
They have teamed up with many well known homeschool figures. You will find Terri Johnson in the Geography classroom, Diane Waring in the History classroom, Kimm Bellotto in the Lapbooking area, and the list goes on. Each teacher is qualified in their area of teaching.

Navigating through the membership area is simple. I will take you through the history section.
This is the main page giving a description of what your student will learn.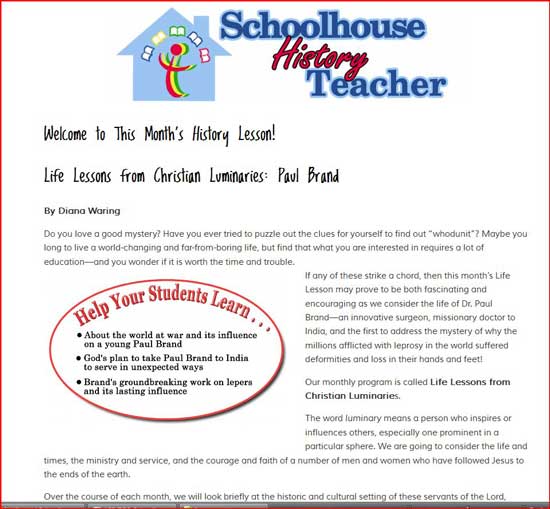 At the end is the information on your instructor.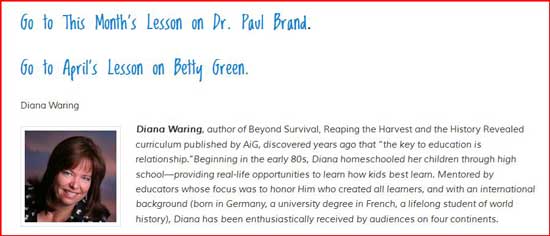 Click on the current month, or any month you choose, they are all archived.
The next page has the lesson with any downloadables needed to complete the lesson. If the lessons are broken down by weeks, it will be noted here.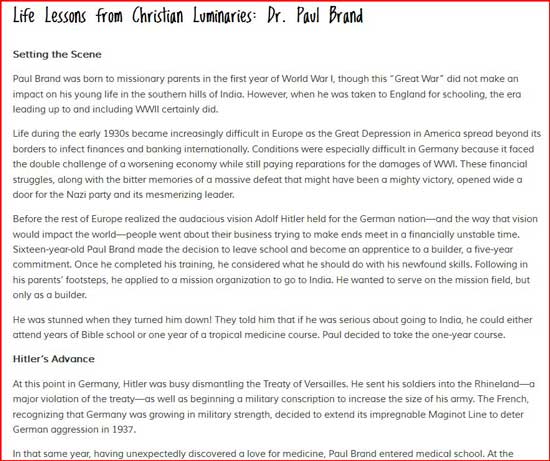 What Subjects Are Taught – Under The Schoolhouse Teachers Tab
In the SchoolhouseTeachers members area, you will find lessons for:
chemistry
economics
figures in History
geography
high school
math
history
home economics
lapbooking
literature
music-voice
struggling readers
technology
writing
The Schoolhouse Dailies Tab
Behind this tab you have many more options for your homeschool needs. These dailies can be warm-ups for getting the day started or extra practice. It also includes art and a monthly menu. You will find dailies for:
daily grammar
daily writing
everyday explorers for the USA and Canada
this day in history
daily math
pre-k activities
everyday easels
monthly menu
Schoolhouse Extras Tab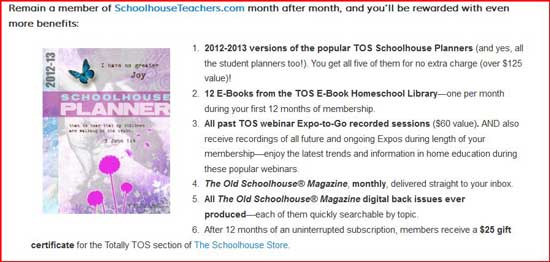 The staff at SchoolhouseTeachers are very generous and every month you will receive:
2 copybooks – actually under the Schoolhouse Library Tab
an e-book on a relevant topic
You also receive their beautiful and informative planners for primary, intermediate, and high school. These are not just planners, but they include many other forms you might need in your household, including Bible reading charts, menu planning, important numbers, etc. Plus they packed each level with relevant articles and homeschool helps.
Not only that, but they are giving you FULL ACCESS to their ALL their past issues of their award winning magazine, The Old Schoolhouse Magazine.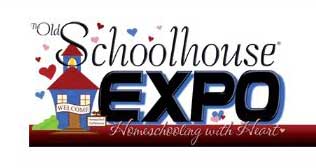 Did I mention they are generous? Well, they are also giving you access to three recording from their Old Schoolhouse Expo. Another great value! Here is a snippet from inside the member's are:
"Recharge your heart for homeschooling with the MP3 recordings from three fabulous TOS Schoolhouse Expos.

First Annual Schoolhouse Expo

Celebrate Homeschool! Expo

Homeschooling with Heart! Expo

You'll celebrate the unique blessings of homeschooling, your families, and having the freedom to tailor your children's education to best meet their needs.

Enjoy an incredible array of speakers–all from the comfort of your home. Covering a vast amount of information, you'll hear about ways to improve your homeschool and plan for your school year.

All free with your SchoolhouseTeachers.com membership!

Plus, receive MP3 recordings from future Schoolhouse Expos with your continued membership.**"
They are absolutely over delivering for what they are charging per month.
Schoolhouse Library Tab
You will find more stuff to do under the Schoolhouse Library tab.
two free copybooks a month, mentioned above
homeschool life
monthly theme
lesson archive
Monthly reading list – goes along with the monthly theme
art
homemaking
craft
spelling
math
nature
What Are You Waiting For?
Begin your membership today so you can begin by benefiting from all that is available today and in the future months.
Blessings,