Back in January, I purchased Aurora's Supercharged Science kit so we can do more hands on science. I thought it would be great for Donnie who likes to work with his hands and it would keep him busy during those, 'I don't know what to do' times of the day. Donnie is one that has to have interaction, he likes to be doing something with someone. His sister, MaryEllen, enjoys her time alone. So this would work great for those times.
Well, it didn't quite work out that way, so now I have it scheduled in as his science time. This way, it is going just fine.
What I did was make him a schedule. It isn't too rigid. His science time is suppose to be fun and educational at the same time.
Here is the schedule I typed up for him. It has links so he just clicks through to his video or mp3. I also added some snippets from the Book of Knowledge that I want him to read, such as a short biography on Isaac Newton.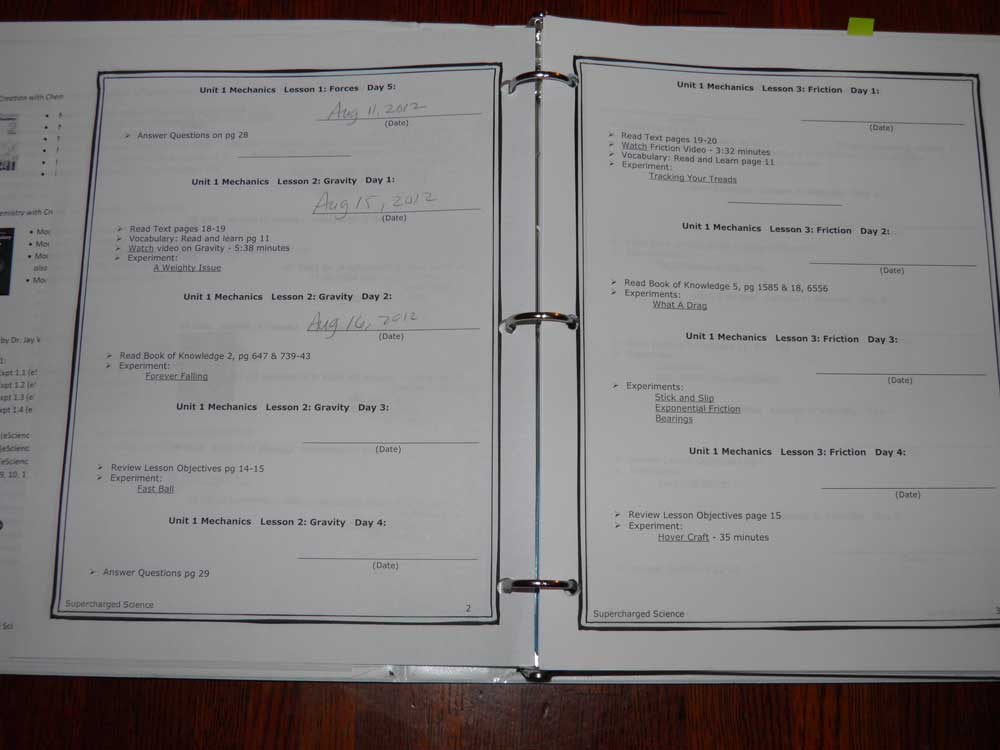 The kits came with everything you need to do the experiments, except for perishables, or other items such as empty soda cans. Here is how they arrive, all neatly packaged by category. With the program I purchased, I received four boxes of supplies.
The insides of one of the bags.
I sit with Donnie to listen or watch Aurora teach or demonstrate an experiment. After, we give it a try our selves. Right now, we don't do each one, because she has quite a few, but we pick and choose.
She also has downloads giving more information on what she is teaching. Donnie reads these too. After the lesson, which I break down into a week, he answers the questions that are provided to see how much he has taken away.
There are also vocabulary terms that we go over on the first or second day of the lesson.
Inside the Supercharged Science members area you will find plenty to do. Below is a list of the separate units available.  All grade levels are available, K-12.
We are enjoying Supercharged Science very much. I, along with Donnie, am learning a lot.
Aurora often gives online Tele-seminars for free, her last one being on Chemistry.
This is actually what I bought, the mastery kit, and it included her E-Science course free for 5 years. You can order only the membership access, and within she gives you links to those kits that she does offer for certain experiments.
Overall, I am very pleased with  my purchase. MaryEllen is doing Apologia's General Science and Aurora has a chart that tells which of her lessons correspond to the lessons in the book. She has a similar chart for other science curriculum also; very handy. So once in a while MaryEllen can also listen or watch one of her videos too.