I created this Mother's Day Lapbook a few years back, and I thought I would once again put it up to be shared.
It basically is the history of Mother's Day, how it came about, by whom and how we celebrate it today.
"For all the love you've given me,
For all the prayers you've prayed,
For all the tears and all the care
The sacrifice you've made,
For all I am or can become,
For all in me that's true,
I want to thank you, mother mine,
For all to you is due."
As we come to Mothers' Day this year, it would be good to learn a little about how the holiday came about. Too often, we take for granted our Mothers, and too often we go through the motions of Mothers' Day…trying to find the perfect card or gift.
Let us pause this Mothers' Day to truly thank our Mothers for all they are to us, not necessarily what they have done, but who they are as a person. If your Mother has already passed on, in honor of Anna Jarvis, find a Mother who has lost a child and bless her.
Mother's Day Lapbook Downloads
Mother's Day Lapbook - Cover
Mother's Day Lapbook - Acrostic
Mother's Day Lapbook - Anna Jarvis
Mother's Day Lapbook - Common Gifts
Mother's Day Lapbook - Carnation
Mother's Day Lapbook - Coupon Pocket
Mother's Day Lapbook - Julia Ward Howe
Mother's Day Lapbook - Poems
Mother's Day Lapbook - When
Mother's Day Lapbook - Proclamation
Other Mother's Day Resources
These can be added to your Mother's Day Lapbook or used as reference.
Mother's Day Bill in Congress
Woodrow Wilson Proclamation
Rose Letter Paper - this rose letter paper can be used to write a letter to mom.
I made these coupons a few years back too, so they reference my old website.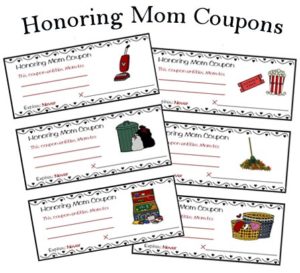 Download
Mother's Day Coupons
Mother's Memories Lapbook
Right now this Mother's Memories lapbook is only $4.50.
This lapbook is for Mom! What a great idea! You create it as a keepsake for your kids, full of YOUR memories. How neat is that. And, I know your kids will love it.
I hope you enjoy making this Mother's Day Lapbook. Please let me know if you use it and if you post on your blog, I would love to come see.
Blessings,