Please Note: All items at Cynce's Place are downloadable ebooks. Once payment is received, you will be emailed download instructions.

Hi and welcome to Cynce's Place!
I am a homeschooling mom who enjoys creating things for our homeschool. I started out sharing my homeschool creations at Albright News, which originally was a family website. I have decided to close Albright News and offer some items for sale. I will still share freebies here on Cynce's Place.
I have a Journal which will be a blog about life, homeschool and other things on my mind. I have found through the years that I am not too good at journaling, so I am not sure how often it will be updated.
I set up a page on Facebook where I can also send updates and reminders when I add the Friday Freebie, tell of sales and new products. I just finished it, so go on over and become a fan! Hope to see you there. 🙂
I am glad you stopped by and y'all come back ya hear. 🙂
Blessing,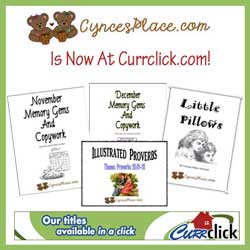 You can now find my items at Currclick.com. I am very excited to be a publisher in their store. When you are shopping at Currclick, don't forget to stop by my page.
http://www.cyncesplace.com/IsNowAtCurrClick
Visit My Journal to keep up with our day to day happenings.
See you there!